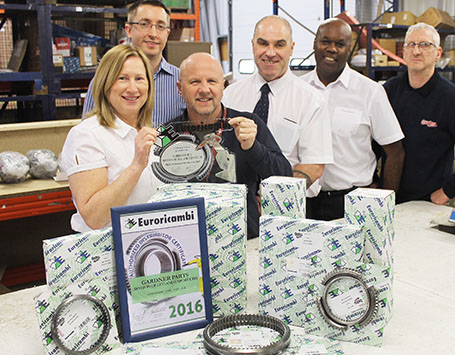 We are proud to announce that we have been presented with the High Performance for the Year 2015 award by Euroricambi.
For many years, we have been a distributor for Euroricambi. Euroricambi manufacture transmission spare parts for trucks and buses which has been a passion of theirs for over 35 years. They pride themselves in supplying a product that has a strong reputation for quality.
This is a significant achievement for us as a company and we feel very privileged to have been awarded this. Our team has been extremely successful in ensuring the market is aware of the Euroricambi product range, ensuring it is priced very competitively and that we have stocks available for next day delivery. This ultimately led to us receiving the award.
Our team strive to continue expanding the range of transmission spares and offering customers quality parts with a competitive price.
For further information about GardnerParts or any of our products, please do not hesitate to contact us.